Tenth anniversary celebrations at the Queen's Diamond Jubilee Centre
Tenth anniversary celebrations at the Queen's Diamond Jubilee Centre
THE Queen's Diamond Jubilee Centre celebrates its tenth anniversary this weekend.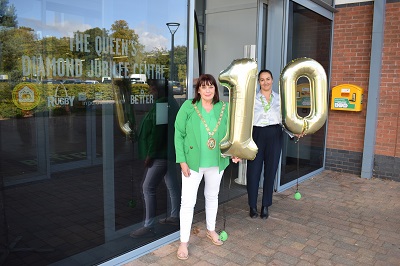 And the Mayor of Rugby, Cllr Maggie O'Rourke, visited the leisure centre today (Friday) for the launch of a packed weekend programme of free fitness sessions to mark the milestone.
Rugby Borough Council built the centre in Bruce Williams Way to replace the town's 40-year-old Ken Marriott Leisure Centre and, a decade on from first opening its doors, it now attracts nearly 40,000 visits every month.
The centre has nearly 5,000 members and has become home to a number of the borough's sports clubs and organisations, including Rugby Swimming Club, Rugby Sport for the Disabled, and Rugby and Northampton Athletics Club.
And thousands of young Rugbeians have learned to swim at the centre, with more than 2,000 pupils attending swimming lessons every week.
GLL, the charitable social enterprise which runs the centre under the Better brand, offers a range of free fitness activities over the anniversary weekend, with free gym sessions on offer during both Saturday and Sunday.
Visitors to the centre can also take the plunge in the leisure centre's main pool (12 noon to 4pm) and studio pool (12.10pm to 1pm) on Saturday, and enjoy badminton (11am to 2pm) and a number of free fitness classes, including zumba (10.30am), HIIT (high intensity interval training) at 11am, and yoga (1pm).
On Sunday, visitors can play badminton (10am to 12 noon), wade into a free water workout (3pm) and enjoy a fun swim in the studio pool from 4pm to 6pm.
Cllr O'Rourke said: "It's hard to believe ten years have passed since the Queen's Diamond Jubilee Centre opened, but it was wonderful to visit the centre today at the start of a busy weekend of anniversary celebrations.
"The leisure centre has fantastic facilities and a friendly, enthusiastic team so, if you've yet to pay a visit, this weekend's the perfect opportunity to explore everything it has to offer."
For more information on the anniversary weekend, or to book a place at a session, visit the Better website.