Stimulate your senses at the Big Draw
Stimulate your senses at the Big Draw
THE Big Draw Festival returns to Rugby Art Gallery and Museum later this month with a free programme inspired by the senses.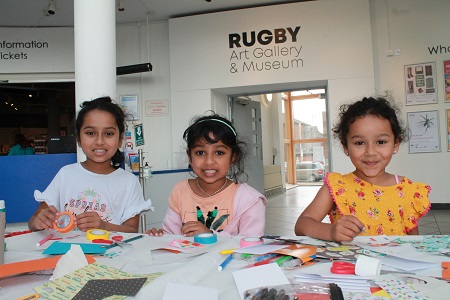 The world's biggest festival of drawing has 'Drawing with Senses' as its theme - from the basic senses of touch, sight, sound, taste and smell to subtle, inner senses, such as déjà vu or 'gut instinct'.
And Rugby Art Gallery and Museum's free Big Draw celebration on Saturday 28 October has plenty of opportunities to stimulate the senses through scribbling, sketching, colouring, printing, exploring and creating.
Visitors can make a blue plaque to commemorate a memory connected to a sight, smell or sound, with all plaques taking pride of place on the walls of the venue's foyer.
Material Masterpieces gives visitors the chance to feel the creative power of fabric, making images with pieces of material which can be projected onto the gallery's walls.
And Jessi Illustrates brings the Big Draw-Along to the Big Draw, where visitors can draw along with Jessi as she leads a series of sessions inspired by the senses, including how to 'draw' sound and create textures.
The Big Draw also gives visitors the chance to find out about innovative community art projects inspired by the sights and sounds of Rugby.
The Rugby Colour Palette has been launched by the Heart of England Community Rail Partnership and gives residents the chance to choose colours which represent the borough.
Funded by Avanti West Coast, the project includes school and community engagement sessions led by Warwickshire-based storytelling collective Ruby Road, and culminates with artist and designer Sam Barnfield using the town's colour palette to create pieces of art to decorate Rugby railway station's subways.
Sounds of the Town, a collaboration between St Andrew's Church and Warwickshire County Council, also visits the venue.
The project takes distinctive sounds from Rugby - including the gyratory system - to create a soundscape which weaves the town's history into the present day.
Phoebe Hilton, Rugby Art Gallery and Museum's senior learning and engagement officer, said: "Drawing with Senses encourages us to think about how we internally process the world around us through touch, sight, sound, taste and smell, creating memories and developing our own sense of self.
"This year's Big Draw focuses on exploring the creative possibilities of this internal process, to live in the moment, immerse yourself in the 'now' and create instinctively from our sensory reactions."
The Big Draw Festival runs at Rugby Art Gallery and Museum from 10.30am to 2.30pm.
The international festival was launched in 2000 to promote the benefits of drawing as a tool for learning, expression and invention.
For more information about events and exhibitions at Rugby Art Gallery and Museum, visit www.ragm.co.uk