Rare spider and bee species thriving at Rugby's nature reserves
Rare spider and bee species thriving at Rugby's nature reserves
CONSERVATIONISTS have discovered rare species at Rugby nature reserves in recent weeks.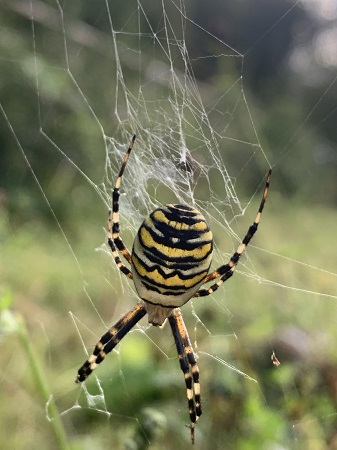 Volunteers from Rugby Wildlife carrying out conservation work at Ashlawn Cutting found a wasp spider spinning its web in September.
The nature reserve on the former Great Central Railway line has become a thriving habitat for flora and fauna, but the discovery was the first time a wasp spider had been spotted at the cutting.
A large spider with striking yellow and black stripes, the wasp spider arrived in the UK from continental Europe, with the majority of sightings recorded in southern England.
The only other reported sighting of a wasp spider in Rugby was at the Rainsbrook Valley's Diamond Wood, planted by Rugby Borough Council to mark the diamond jubilee of Her Majesty Queen Elizabeth II.
Another rare species was discovered in September at Newbold Quarry Nature Reserve.
Rugby Wildlife volunteers found a number of closely knit ivy bee nests - known as an aggregation - housing thousands of the pollinators.
Ivy bees nest underground and, as the name suggests, the species focuses on collecting pollen from ivy, which flowers in the autumn.
Similar in appearance to the honey bee, the first reported sighting of ivy bees in the UK came at the turn of the millennium in Dorset.
Since then, the species has spread northwards but September's sighting at Newbold Quarry marks the first confirmed report in Rugby since 2014.
Rugby Borough Council manages both Newbold Quarry and Ashlawn Cutting in partnership with Warwickshire Wildlife Trust (WWT).
Volunteers from Rugby Wildlife support the trust by carrying out conservation work at the nature reserves.
Tom Kittendorf, Rugby Borough Council chief officer for leisure and wellbeing, said: "The council works in partnership with Warwickshire Wildlife Trust to conserve and create natural habitats in the borough, boosting biodiversity and building on the council's work to support pollinator insect species through the creation of urban meadows and grasslands.
"However, the discoveries of a wasp spider and an aggregation of ivy bees were a real reward for the hard work of the volunteers from Rugby Wildlife, whose enthusiasm and dedication makes such a massive difference to our environment."
Steve Wright, a Rugby Wildlife volunteer, explained how habitats were carefully managed to encourage a wide variety of species to thrive.
"The best way to manage habitats is to create a mosaic of bare soil, scrub, trees and soft green plants of different ages," Steve said. "Monitoring species on our reserves is critical to creating the habitats they need to encourage biodiversity."
Lucy Hawker, Warwickshire Wildlife Trust's Dunsmore living landscape scheme manager, said: "It's fantastic to know the reserves are providing suitable homes for these two new species and that's down to the hard work and dedication of Rugby Wildlife volunteers."